---
Our Creative Aging program fosters a network of cultural organizations, senior service organizations, libraries, and artists who are trained in creative aging best practices.
---
---
Creative Aging Impact Report
The link below will open the Creative Aging Impact Report which highlights the affects of the Lifetime Arts training as well as the outcomes of the initial year of our Creative Aging grant.
---
Creative Aging Impact Report - 2021-2022
---
---
Creative Aging Grant - For Lifetime Arts Trained Participants

FY 24 Grant Opens November 1, 2023 - Deadline is November 30, 2023
Utah Division of Arts & Museums is happy to announce the 3rd year of our grant opportunity to support Creative Aging in our state. This grant is only available to organization and artists who participated in the Lifetime Arts training.
View a recording of a Creative Aging grant overview by clicking here.
If you have questions about this grant or eligibility, please reach out to Jason Bowcutt, jbowcutt@utah.gov or Tracy Hansford, thansford@utah.gov
---
---
---
UA&M has engaged Lifetime Arts, the national leader in creative aging programs and services, to provide training, coaching, consulting, and resources in support of our creative aging work.
Learn more about Lifetime Arts by clicking here.
We are continuing training through Lifetime Arts by use of their Creative Aging Foundations On-Demand course. We are also hosting an in-person Foundation training that will take place on Monday, June 3, 2024. If you are interested in participating in this training please fill out this form.
---
---
Leveraging State Investments in Creative Aging

In 2021 the Utah Division of Arts & Museums received a grant from the National Assembly of State Arts Agencies, in collaboration with E.A. Michelson Philanthropy, to support Creative Aging. We established a 3-year grant program to encourage sequential creative aging classes taught by professional artists that focused on adults 55+.
Utah's project was called "A Lifetime of Arts Elevated" and more information can be found here.
---
---
Creative Aging Grant Participants' Activities - FY22
The following organizations received the Creative Aging pilot grant. The grant provided funding to run an arts program for adults 55+.
---
Organization: Utah Chinese Association
Teaching Artist: Nan Li
Description: This class will be friendly for all students, if the student is new in knitting, we will teach the basic skill to them. If the student has knitting experiences, we will teach more complicated knowledge for them, such as how to match the colors, how to make a beautiful pattern. All students have an opportunity to show their projects. Come to learn Knitting art skill and make friends, a tea conversation followed by each class.
Registration:
Dates: Tuesdays, 11am - Noon, February 1, 2022 through April 5, 2022 (performance for residents on March 29, 2022)
Organization: Story Crossroads / Summit Vista Senior Living
Teaching Artist: Laurie Allen
Description: Storytelling is an art that is as old as the human condition: stories are all around us. Join a class on the techniques of telling (not reading) a story that will keep your listeners engaged and wanting more. This will be highly interactive and will help you with visualizing, vocal inflections, body language and other necessaries for performance storytelling, whether on stage or with your grandchildren. Become the one that your grandchild says, "Tell me a story!" whenever they get the chance. There will be many opportunities to practice, whether you want to tell folktales, family and personal tales or historical vignettes: the art is as diverse as you. Express yourself in a way you may not have tried before, but that is a natural part of our human experience.
Laurie Allen, professional story artist/facilitator (trained through Creative Aging):
Laurie Allen has been mesmerizing audiences with her stories throughout the area for nearly two decades, sharing in schools, libraries, festivals, parks, family groups and anywhere people will listen. She specializes in folk tales, ghost stories and legends of the American experience. Having taught music at the elementary level, she often adds songs and instruments to her tales. She is the founder of the Clearfield, Utah Storytelling Festival and works as a researcher and storyguide for Ogden and Salt Lake City Ghost Tours.
Registration: Only for Summit Vista residents, 21 currently participating
Dates: 2/2/2022-4/6/22
Organization: Ririe-Woodbury Dance Company at The Neighborhood House
Teaching Artist Name: Juan Carlos Claudio
Class Description: Participants of the Grey Matters pedagogy taught by Ririe-Woodbury Dance Company member Juan Carlos Claudio at Salt Lake City's Neighborhood House will enjoy the cognitive and physical benefits of dance from February 6 - April 2, 2022. Dancers will test their balance, memory, and coordination to an eclectic variety of Latinx music in a group setting of their peers. The series of classes will culminate in a proscenium-style showing of their hard work to family and friends.
Registration: Interested participants may register at the Neighborhood House.
Organization: West Valley City/Harmon Home
Teaching Artist: Kindra Fehr
Description: From Sketchbook to Canvas to Collaboration is a free eight-week art class that will be hosted at the Harman Senior Recreation Center in West Valley City. Local artist Kindra Fehr will teach the class, with a focus on expanding creativity, learning new skills, sharing ideas and memories, and creating individual and collaborative art works. The last two weeks of the class will focus on bringing their new skills together in a collaborative art piece to be exhibited at the Utah Cultural Celebration Center as part of a larger community celebration of Earth Day 2022.
Registration:
Organization: Granary Art Center
Teaching Artist: Kim Gordon
Description: Granary Arts invites adults age 55+ to participate in a hands-on watercolor workshop taught by local artist Kim Gordon. Kim is an experienced Snow College Visual Arts Instructor and workshop teacher for the North Sanpete Arts Council. She will instruct participants in watercolor painting techniques over the course of six consecutive weekly workshops complete with a culminating exhibition event. All skill levels welcome, no prior art experience or skills required. The workshop will focus on watercolor painting techniques and the enjoyment of painting. The basics of materials, tools, techniques, color, value and "seeing" your subject will be explored. Techniques include, but are not limited to: washes, wet-on-wet, lifting, composition and negative painting. This workshop is designed to be fun, inspirational, and social with a focus on how to relax and enjoy the process of watercolor painting. Watercolor paints, paper, brushes and palettes will be provided. Sign up with a friend, or by yourself. This workshop structure was provided by Utah Arts and Museums, Creative Aging program.
Registration: If you would like more information, please go to their Facebook event or Eventbrite page.
Organization: Plan-B Theatre Company
Teaching Artist: Elaine Jarvik, Julie Jensen, Kay Shean, Debora Threedy (that's 220+ years of professional theatre experience)
Description: A new workshop facilitating the creation of well-crafted, short (possibly very short!) plays - while also facilitating social engagement - in seven two-hour sessions.
Registration: Applications were open to the general public. Applicants were asked to share, in 150 words or less, what was appealing about this workshop and/or what they hoped to get out of it. We received 19 applications for 6-8 slots. All identifying information was removed from the applications before they were shared with the facilitators, who then read and ranked them from 1 to 19. Those ranking 1-8 were selected. Their website page with more information about their Creative Aging class can be found here.
Dates:  Wednesdays from  February 23rd - April 13 from 1:00-2:30 pm
City:  Logan
Organization:  Sunshine Terrace Foundation, Terrace Grove Assisted Living Center
Class Title:  Glass Art
Teaching Artist Name:  Dana Worley
Class Description:
In this eight-week course, participants will learn the history of fused glass and specific art skills
of mark making, stamping, stenciling and painting on glass. Weekly sessions will include a video
presentation, foster participant discussion, demonstration by instructor and intro to the art skill
taught that week. There will be no glass cutting and firing will be done by the instructor in her
personal kiln. Participants will create four projects and a final project to be displayed at a
culminating event.
- Project 1: Mark making with tiles.
- Project 2 : Stamping on tiles
- Project 3: Stenciling on tiles
- Project 4: Painted glass suncatcher
- Final project: plate, bowl, wall hanging, or incorporating previous project into a final design
Final projects will be displayed at a culminating event in coordination with Utah State University's Nora Eccles Harrison Museum of Art. 
Registration:  12
Organization: Art Provides
Teaching Artist: Elizabeth Gunter
Description: Are you 55 or older and searching for a new fun way to meet people? Are you thirsty for connection and joy? Are you ready to experience creativity in a way that's both rigorous yet unintimidating, releasing and rejuvenating? Or maybe you are a senior artist who is ready to take your current art process to to a more soulful depth while making new artful allies? Come connect, learn to create with acrylics, try out several styles of painting in our new 8 week progressive course and learn to create in acrylics with more intuition.
We will provide all of the art supplies, music, and painting instruction for each class. The first class we will feel into the needs and interest of the group and introduce you to possibly your first new sketchbook to take note and journal your experience each week. Week 2 we will begin with a guided meditation, mirrored drawing exploration and a kinesthetic exercise using watercolors. The next series of 5 classes will be two-hour step by step acrylic paintings each building upon the skills of the last. You will learn some mechanics of acrylics and try out several styles of painting. The sixth and last painting will combine all of your experiences into a painting intuitively to live music event. The culminating event at the end will be an art opening with a panel discussion, refreshments, live jazz and a few surprises to take home as well.
Normally an experience like this would cost participants $450 dollars to attend but with the support of Utah Life Time Arts we are able to provide this all-inclusive art experience, including ALL supplies, entertainment, and instruction for the entire 8 weeks plus the culminating event for just $70. At the end you will have made 7 pieces of art including 6 acrylic paintings and have a wonderful art journaling practice started and implemented into your new more creative life as well as a few surprises to help keep you going and connected to your new antsy friends. We hope you will join us, come find the connection, relaxation and inspiration you've been looking for.
Registration:
Organization: Nora Eccles Harrison Museum of Art / Sunshine Terrace Foundation
Teaching Artist: John Westenskow
Description: Discover your creative talents in Soul Portrait painting class designed for older adults! A soul portrait is an image that is not concerned with capturing the likeness of oneself but attempts to capture other deeper more interesting aspects of who you are. John Westenskow will lead participants through a series of 8 art classes held weekly. All skills and abilities are welcome.
The class will be held at Sunshine Terrace on Wednesdays from 1 p.m. to 2:30 p.m. during March and April, with a special appeal to caregivers 55 and older.
The class will culminate in a celebratory event held at the Nora Eccles Harrison Museum of Art on the Utah State University campus.
Registration: Call Shannon at 435-797-0182 to register - leave a message with your name and contact information. Please see their Facebook event for more information.
Organization: Crescent Senior Living
Teaching Artist: Maddie Michael
Description: Residents at Crescent Senior Living will engage in a 10-week mixed media program to explore at least three different art forms and create their own pieces. Teaching artist, Maddie Michael, is prepared to teach three of the following art forms: clay, fiber arts, book binding, painting, and photography. Each art form will be explored for 3 weeks, with the 10th week set aside for the culminating event. The overall theme of the program is self-expression and exploration. In addition to learning three new art forms, participants will have the opportunity to engage in self-expression and increase confidence, patience, and social engagement. Friends, family, and community members will gather for the culminating art show and celebrate the three art pieces each artist will present.
Registration:
Organization: Bountiful Davis Arts Center
Teaching Artist: Jennifer Love
Description: Anyone can learn to draw! Creating can bring you joy, stress relief, and a sense of accomplishment. Drawing skills are the foundation for creating most forms of two-dimensional art. In this class, participants will learn how to break down subjects into basic shapes and proper proportions; how to distinguish and create light, medium, and dark values to create dimension; and to layout and complete more complicated drawings using sections (quadrants). Art classes give students the ability to provide encouragement to each other, socialize, and learn from each other. Participants will learn to develop self-confidence, let go of self-criticism and, most importantly, have fun!
Registration: Their website with more information on how to register for this class is found here.
Dates: Tuesdays Starting May 24th (May 24th, 31st, June 7th, 14th, 21st, 28th) 
Organization: Ogden Nature Center
Teaching Artist Name: Deja Mitchell

Class Description: Join performance artist Deja Mitchell for an African drum and dance class.  This class is designed to improve the health, wellbeing, and socialization of people 55 and older.  Participants will learn the basics of djembe drum technique and West African dance steps that go with the rhythms.  The class series culminates in a performance for friends and family.  No prior experience is needed.  Participants do not need to bring anything with them, but should dress comfortably to allow free movement.  Classes are progressive, so attending every class is recommended.  

Registration: $10 for members of Ogden Nature Center $20 for non-members.  Price is the cost for the entire series.  
Organization: Uintah County Heritage Museum
Teaching Artist: Janeal Johnson
Description:
This is a nine-week art course for adults 55 years and older that will be instructed by Janeal Johnson an artist with The Uintah Basin Visual Arts Group. We will be learning and creating in the style of tactile art. Below is an outline of the weekly events: 
April 6 - 
Session 1 Title; Introduction, supplies, and art background
In this session, we will make introductions. Janeal will give a brief but detailed description of Tactile art, its background, and how it is opening doors for many who have not been able to enjoy the art experience.
April 13 -
Session 2 Title; Tools, Technique and Creating Raised Relief art.
In this session, we will be talking about the tools used to create tactile art and raised relief artforms. Janeal will give a brief and detailed background and suggest artists to research and enjoy who create these forms of art.
April 20 -
Session 3 Title: Painting with Acrylics using brushes and sponges.
In this session we will talk about different painting techniques; using brushes or sponges, learn about using Acrylic paint and metallic paints to create depth, shadow, and light. During this discussion, we will discuss artists like Michelangelo and how he used these techniques to create the illusion of space and shape.
April 27 -
Session 4 Title: Finishing Tree painting, Sealing work, and why sealing your work is important.
In this session we will finish up painting our trees, sign our work and learn about sealants; how to apply them, and why it is important.
May 4 -
Session 5 Title: Miniature Tactile Painting Introduction. Making the most out of small pieces.
In this session, we will explore the art of using small spaces to create big ideas. How to utilize the smaller canvas to build a tactile, raised relief, 3-dimensional piece. How the art of miniatures has grown and artists to research and watch. We will discuss different tools you can use to create form and space and how you can trick the eye.
May 11 -
Session 6 Title: Starting our Miniature Paintings
In this session, we will get to work on the miniature painting by sketching them out and applying the hot glue. I will introduce how to utilize normal everyday items as tools to create a fun design, shapes, and textures.
May 18 -
Session 7 Title: Miniature Painting
In this session, we will work on painting our miniature paintings, answer any technique questions and learn how to coach each other in a positive way. We will learn about how to critique and how to do it in a constructive way.
May 25 -
Session 8 Title: Finishing up Miniatures, Planning the culminating event.
In this session, we will finish up the miniature painting, talk about different ways you can hang your work and supplies you can use. How to prepare your work to exhibit.
June 4 -
Session 9 Title; CULMINATING EVENT!!!!
This session will be our final class. This will be a special day to shine for each participant. We encourage each participant to invite their family and friends, wear their best outfit, and be prepared to show off their hard work. This event is designed to include everyone and celebrate their accomplishments as well as socialize with one another. There will be a small refreshment table, an opportunity to have a photo taken with their work and if wanted maybe some background music.
Registration: More information and to register for classes can be found here.
Organization: South Salt Lake City Arts Council
Teaching Artist: Stefanie Dykes, Saltgrass Printmakers
Workshop Location: Saltgrass Printmakers, 412 South 700 West, #110, Salt Lake City, Utah 84104
Class Description: Natural History meets Personal History – a six week course exploring collagraph printmaking
Collagraph prints can be created from materials found in your kitchen junk drawer, hardware store or during a walk in your neighborhood. Students in this course will use various techniques to build up textured surfaces with common materials. We will be exploring form, texture and composition as well as developing a conceptual approach to our prints. Stefanie Dykes will introduce the idea of 'Lifecores' as a self-reflective process that will help us diagram our lived experience or personal landscape. We will translate our collected 'data' to create our artwork. This method is a kind of quasi-scientific approach to creating an image. This process is inventive and inspiring! This workshop is geared for beginning students, but experienced artists can join us as well.
Workshop is limited to eight participants.
Dates and Location: This six-week course will meet Saturdays at Saltgrass Printmakers, 412 South 700 West, #110, Salt Lake City Utah, 1:30 pm to 3:30 pm.
Registration: Please email Lesly Allen, Executive Arts Director, South Salt Lake Council at lallen@sslc.gov to register for the class.
Artist Reception: Saturday, June 11, 2022 at Columbus Community Opportunity Center, 2531 S. 500 East, South Salt Lake City, 2:00 pm to 4:00 pm
Organization: West Valley Arts & Cultural Foundation
Teaching Artist: Natalie Keezer
Description: Over the course of the session students will learn how to prepare a scene, with a final
performance at the end of the series for friends and family. This course will focus on introducing
students to basic acting techniques, and emphasize the creativity that goes into developing a
scene, as well as the collaborative nature of working with scene partners. Golden Pond script and all other materials for the class are provided free of charge. 
Registration: Contact Susan Klinker at susan.klinker@wvc-ut.gov or 801-509-1972 to register.
Organization: Holladay Arts Council
Teaching Artist: Nan Seymour and Kandace Steadman
Description: Everyone's an artist!  Please join us for an exciting workshop with new friends who are aging creatively, just like you. We will honor meaningful life stories through writing and collaging a 16"x16" mandala under the tutelage of two experienced teachers: writer Nan Seymour, and artist Kandace Steadman.
This is an intensive, eight-session workshop that will encourage participants to share symbolic components of their identities and translate them into powerful works of art. At the conclusion of the workshop, you will be practiced at overcoming the tyranny of perfectionism and experience the pleasure and authentic connection that comes from writing in community. You will also understand the history and symbolism of mandalas, create a symmetrical collage, and ready it for professional display. Your writings and mandalas will be celebrated through publishing a chap book and holding an opening reception for an exhibit during the month of May at City Hall.
Class size is limited to 10 participants. The registration form will ask you to explain why you would like to participate in this workshop. If we receive entries from more than 10 people, we will evaluate the responses to this question and strive to form a group of diverse, engaging, and committed students.
Age requirement: 55+; you do not need to live in Holladay
Dates: April 4-27, 2022
Time: 10am – noon, Mondays and Wednesdays. Participants are required to attend all eight
sessions because the learning is sequential.
Fee: Only $65 due to generous sponsorship from the Utah Division of Arts and Museums, E.A. Michelson Philanthropy, and the National Assembly of State Arts Agencies. (Please
contact sgillilan@cityofholladay if you need financial assistance.)
Where: Holladay City Hall, downstairs (4580 S 2300 E)
Registration: Their website page with more information on how to register for classes is found here.
Organization: Jewish Family Service
Teaching Artist: Donna Pence
Class: This 8-week course for adults 55+ introduces art exploration and appreciation. Investigate techniques, topics and issues by applying individual knowledge, judgment, and skills. Students will learn more than a collection of facts, they will be encouraged to stretch the imagination, exercise and develop art skills, and increase knowledge through the use of critical thinking and creative problem-solving. Students will also consider alternative ways of expressing ideas and feelings effectively through reflection and critique. Reading, writing, creation and reflection will be an integral part of this course.
Format: Virtual
Dates: Thursdays - April 7 – May 26.
Time: 4:15 – 5:15 live class time, plus a 30 minute video instruction / per week
Culminating Event: June 2 (time TBA)
Cost: Course and materials are FREE OF CHARGE!
Registration: Email emily@jfsutah.org by March 28, if you want more information or to register for the class. Class materials will be sent to your address.
Dates: Every Saturday from April 2-May 21
Organization: Red Butte Garden
Teaching Artist Name: Doug Allen
Class Description: This class is designed for individuals 55 and older. The class will acknowledge the level of art that one may be at and then strive to increase individual artistic skill and development. This class will be tailored to fit every level: beginners, intermediate and advanced. The class will involve drawing with pencil, pen and ink, color pencils and watercolors. The various media will aid in practicing techniques and developing skills. Basic art foundations will be reviewed to strengthen previous knowledge and abilities. Sequential instruction will provide skill building through each class week to week. It is intended that participants will attend weekly for the duration of the 8 weeks. Participants will build individual skills and gain insight in watching others work and sharing ideas and observations. All participants will display their artwork in a sharing event during the last week of class.
Registration: $40 including all materials
Dates: Wednesdays, May 11 - June 8
Public exhibition July 1, 2022 to August 31, 2022 at Cedar City Public Library in the Park
Organization: Southern Utah Museum of Art

Teaching Artist Name: Sue Cotter
Class Description: 
The term Book Arts applies to any of the creative craft disciplines used to produce a book. Traditionally a person would study and become proficient in only one or two of these disciplines which include typography and book design, papermaking, various printmaking methods, paper decoration, letterpress printing and bookbinding. Over the years and especially since the 1960s, more and more artists and writers took full creative control and turned the making of books into a different kind of art form now called Artist Books.
This series of 5 class sessions will introduce participants to some traditional and innovative book arts skills with the aim of each student completing their own unique Artist Book. We will cover papermaking, mono‐printing and paper decoration methods using a gelatin‐plate, a variety of collage and page decoration techniques and assembly of a completed book with hard covers. Throughout the process participants will develop skills for generating ideas and expressing them in the form of a creative book.
Registration
: Eventbrite (link not yet published)
Organization: Brigham City Museum of Art and History
Teaching Artist: Christian Knudsen
Description: This course is designed for beginners and those who have minimal painting experience. Students will learn the basics of handling watercolor paints and brushes and explore a variety of techniques and subject matter (landscape, still life, self-portrait/portrait, and abstraction). We will cover the fundamentals of composition, tone, and blending colors. One-on-one and group discussions will also touch upon concepts crucial to the creative process, including critical thinking, discipline, spontaneity, metaphor, and others. Technical demonstrations will complement our studio work. The goal of this course is to give students the basic tools and ideas necessary to begin their own personal painting practice.
Registration: $25
Organization: Repertory Dance Theatre
Teaching Artist: Meghan Durham Wall
Description: The experience of inhabiting an aging body is unique to each person, revealing an anatomical atlas of a specific life trajectory through muscle memories, scars, curves, aches, joint mobility, and constant cellular change. Prime Performance will excavate these individual movement stories through writing prompts, movement improvisation, and original choreography culminating in a public performance.
Prime Performance takes structural cues from Jamie Cunningham's and Tina Croll's "From the Horse's Mouth," an acclaimed story-telling and dance performance experience. While that established program centers around "magical tales of real dancers" Prime Performance will shift our focus to "movement stories of real bodies."
Intended as a natural progression from RDT's Dance Center on Broadway Prime Movement class, Prime Performance will engage and offer this existing community of mature movers the opportunity to connect, express, and generate ideas in a new setting. Prime Performance will be open to anyone who wishes to experience and expose the profound knowledge, resilience, and healing older bodies can share through creative expression, performance preparation, and formal presentation.
Registration:
Organization: Mundi Project
Teaching Artist: Erika Qureshi
Description: FREE 8-Week Musical Exploration
with Dr. Erika Qureshi
-Experience designed for adults 60+
-Explore songs you know & love
-Socialize with a small group of music lovers
Registration: call the center 385-468-3015
Organization: The Johnson Center for Community Arts and Education
Teaching Artist: Carrie Trenholm
Description: Program attendees will participate in four, three-hour workshops to learn basic techniques of
glass fusion. Each participant will create four works that show individual personality while
learning to use a variety of fused glass materials and techniques. Attendees will learn how to
handle glass safely, understand chemical reactions and firing techniques, as well as work with a
variety of glass types. Individuals will also express and share ideas, memories, and personality
with their cohort group, and participate in an exhibition at the Johnson Center showing the works
completed during the course.
Dates: Mondays 12:00 – 3:00 March 14, 21, April 4, 18 Exhibit of Glass Artwork May 2, 2022 1:00-2:00 
Fee: $40 per person for all four sessions
Registration: For more information contact Carrie Trenholm at trenholm@emeriti.suu.edu
Organization: Bad Dog Arts
Teaching Artist: Victoria Lyons
Description: Are you age 55 or more? Do you love to explore? Are you ready for a new journey into abstract art? No prior art experience is needed, only a willing spirit to take a series of eight visual arts classes that will culminate with an exhibition of your wonderful artwork and those of fellow participants. Students will be guided through a series of exercises that will be building blocks to explore elements of visual art such as color, composition and texture each time we meet. Victoria will guide you through a series of exercises to play with materials in ways you may not have thought of trying before to evoke imagery and talents you never thought possible. This project will be a way for us to come together and have permission to imagine, dare and create in collaboration with fellow budding artists.
Registration:
Organization: Brigham City Corporation
Teaching Artist: Cody Wolford
Description: A 6-week program designed to teach an amateur photographer the skills needed to add new dimensions to their cell phone photography. Gather weekly to learn photography basics including rules of thirds, depth, background, patterns and more. You will have the opportunity to meet with others who are interested in photography, critique each others work, build on your skills and then share your work with the public at a show in the Brigham City Museum of Art and History. Most everyone has a cell phone with photography capabilities that have gone unused. Unlock the potential of your phone and your visions.
Registration:
Organization: Kathy Cieslewicz
Teaching Artist: Kathy Cieslewicz
Description: Artful Journaling, is an eight-week class held once a week for seniors over the age of 55. The class will be taught by Kathy Cieslewicz, Sears Art Museum director/curator, art teacher at Mohave Community College, and a certified Creative Aging teacher through the State of Utah. The classes will culminate in a meandering journal filled with many art mediums and techniques, and punctuated with original poems, thoughts, and recalled life experiences. The goals are to enrich the lives of older adults though art making, the joy of creating, and engaging in a creative community. The objective is to invite everyone to learn to express themselves and to learn new ways to create art. It provides for and encourages a vibrant senior community. The class is open to people over the age of 55 and not limited by experience or skills.
Registration:
Dates: January 25 to March 8, 2022
Organization: Cedar City Public Library
Teaching Artist: Mona Woolsey
Description: Cedar City Library and artist Mona Woolsey (Bottle Tree Art) will collaborate in developing a sequential, senior-specific, fused class art program to be held at Woolsey's studio. Courses will move participants through techniques of design, creation, and finishing works of fused glass including basic tools used for this artform. As we continue to emerge from COVID-19, this program will allow participating senior citizens to engage and re-engage with community members while participating in art creation in the most functional and safest manner - in small groups with an experienced mentor.
Registration: 10 unique participants
---
---
---
The Utah Creative Aging Coalition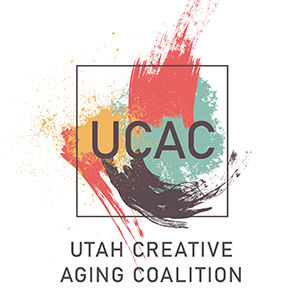 Bringing together programs, organizations and participants to promote creative aging in Utah. Mission - To support optimal aging through the creative arts by serving as a clearinghouse of information and education for participants and professionals in Utah's older adult communities.
UtahAging.org - The Utah Commission on Aging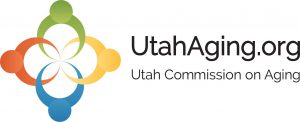 The Utah Commission on Aging (UCOA) sponsors and manages UtahAging.org as Utah's official statewide virtual resource center for older adults.  UCOA convenes expert stakeholders to share resources and best practices from our communities, public policy, education, and research to help Utahns navigate the opportunities and challenges of the aging experience.
Arts & Aging - The Utah Commission on Aging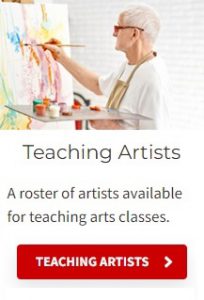 The Arts and Aging promotes creative engagement for those in the second half of life. Whether art experiences are more passive, such as attending an exhibit or concert, or more active, such as learning a skill or participating in the performing arts, wellness is nurtured when we engage in the arts.  Arts engagement benefits people across the health spectrum and includes the Creative Arts Therapies. Research is demonstrating that participation in the arts can positively affect emotional, social and physical health,  and contribute to true health promotion, disease prevention, and improved quality life. This page also houses the Creative Aging Teaching Artists Roster.
The Creative Age Conference 
Arts Council of Washington County
This annual conference provides inspiring keynote speakers, hands-on workshops and entertainment.
Lifetime Arts
National Leaders in Creative Aging Program Development
Founded in 2008, Lifetime Arts is a nonprofit arts service organization that offers a positive, modern, artistic and social lens through which to serve, inspire and engage America's growing population of older adults. Our mission has 3 main components:
1. Encourage creative aging by promoting the inclusion of arts education programs in organizations that serve older adults
2. Prepare teaching artists to develop the creative capacity of older adult learners
3. Foster lifelong learning in and through the arts by increasing opportunities for participation in community based programming
American Alliance of Museums
Report - Museums and Creative Aging: A Healthful Partnership
---